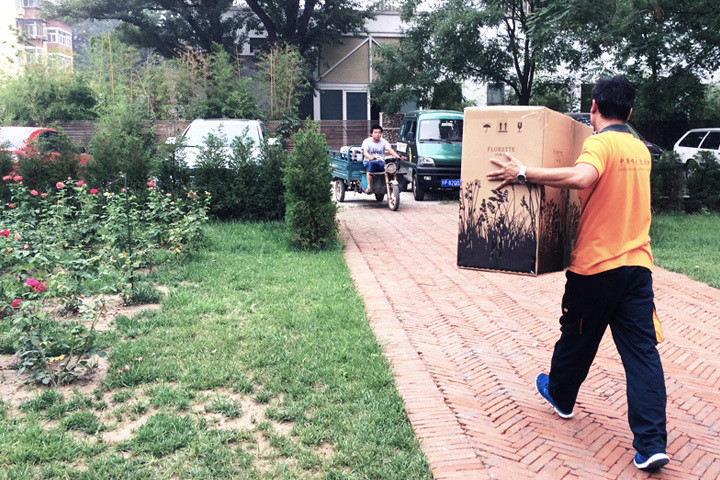 第一次把花束完整包装好,仔细检查每一朵花,仔细检查卡片上的每一个字。
算准时间,在快递师傅到达的前五分钟把冰袋从冰柜里拿出来,放进纸箱,认真封上胶带。呼……快递车已经停在红砖路口了。
为了让鲜花在运送途中少受一些酷热的折磨,我们与不同的快递公司洽谈,得到的回答都是"只能是隔天送到",意味着鲜花得在闷热的库房停留一夜。我们不能接受这个结果,每天打给快递大佬们试图说服他们。终于EMS被我们的死缠烂打感动,承诺我们清晨发出的花可以在当天下午送到客人手中,感恩。
快递师傅在搬今天的最后一箱,装满心意的绿色快递车这就要出发了。
缩短运输时间,用冰袋保持凉爽,祈祷我们的努力能打败酷热,让鲜花被送到的时候依然娇嫩欲滴。
Today, we make our very first delivery. We carefully packaged the bouquets into their cartons, checked every petals and every word on the message cards, taken out the ice packs from the refrigerator and placing them into the boxes before sealing. Before we know it, the nostalgic green van appeared at the end of the brick driveway.
In order to avoid our flowers from enduring the unbearable heat during transit, lengthy conversations were held with almost every courier companies that we could find. Their replies were consistently disappointing: 'delivery can only be made on the next day.' This only means that our bouquets will need to stay in their stuffy warehouses overnight, which is simply unacceptable. After some serious discussions and negotiations (and a bit of begging), we finally convinced EMS to become our official delivery partner, who guarantees same-day-delivery and to handle our parcels with much care and tenderness.
Standing by the doorway, we felt like we were some old worrying parents, marrying off our baby daughters, hoping that whoever receives them on the other end of the aisle will treat them plenty of love and respect.