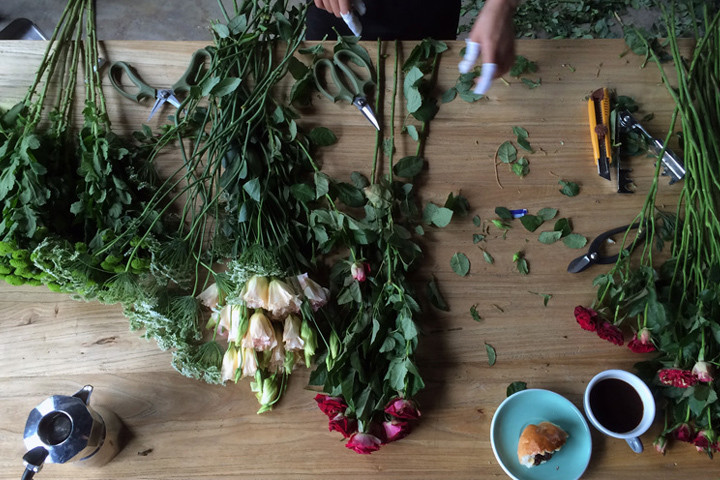 定了凌晨四点的闹钟,为了去把最新鲜的花草抢回来。于是天刚蒙蒙亮我们迎着薄雾出发,带着一车的清香回到FLORETTE。
不能像平常那样坐下来喝咖啡,得赶快把鲜花整理好放进玻璃房小冷库。咖啡面包摆在工作台,迷人花香被咖啡暖暖的味道包裹,幸福弥漫,辛苦变得不值一提。
In order to get the freshest flowers for the Chinese Valentine's Day, we set our alarm at 04.00 and departed into the foggy / smoggy morning and came back to our cottage with a car full of enchanting scents of Ecuador roses and flowers from the Netherlands.
With so much flowers and foliage waiting to be cleaned and put into the cool fridge ASAP, there is absolutely no time for a leisurely sit-down breakfast. The fresh brewed espresso and raisin bun were consumed on the workbench amongst our flowers, all of a sudden, the entire room is infused with the smell of fresh flowers and coffee.
Hard work? No, because this is really what wakes us up every morning.