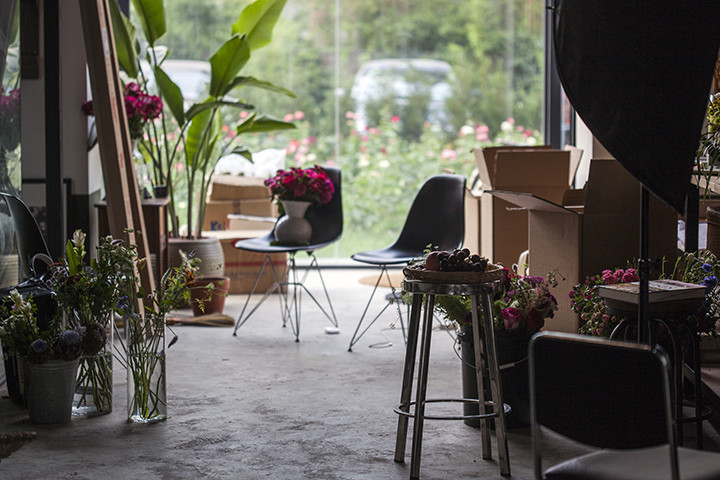 FLORETTE几束花 - 是由几个热爱花朵的建筑设计师和创意人所创办,目的简单-只为了追寻和营造一个更好的生活体验,一个充满大自然的甜美和爱的生活体验。
建筑设计师在新西兰长大、求学、生活,习惯了买面包回家的路上带一捧花回家插在瓶中,习惯了自家院子长满花花草草。
来到北京之后,发现买到随心的花材并不容易,生活和工作的半径也是从一个钢筋水泥到另一个钢筋水泥的距离。
感觉生命中少了某种生活,抑或是,生活中少了些生命。
从破旧小红屋变成野花环绕的FLORETTE,我们在这里生活和工作在我们的梦里,花草是生活中不能缺少的因素,
即使是在北京这样的都市。为了这个梦,我们到处找寻,最终找到了一个被一小片荒野环绕的小红砖屋,
而这片小废墟,在我们亲手细心栽培和呵护下转变成一个充满玫瑰和野花的FLORETTE。
生活不应该复杂急躁。在这个小院里,我们照着自己的节奏和步调种花、栽树,研发和完善每一个设计,
渐渐地,那种贴近自然的生活方式被找回来了,我们也希望FLORETTE能够影响更多热爱自然生活的人们。
鲜花就像是面包一样不可缺少又平常的美好
花草是大自然的象征和缩影,是这个世界派来让我们体验四季变化的使者,
是美妙生活的基本配备,不应只是出现在特别的日子和重要的场合里。
鲜花所带来的愉悦和美好,也不应只是收到花束的那个瞬间。
收到鲜花惊喜的那一刻,只是这份美好的开端。
我们愿你能乐意享受花草每一秒变换的美丽,从你将它们从包装释放的那一刻开始,
伴你度过早晨的第一杯咖啡、慵懒的下午茶、浪漫的烛光晚餐、放松的泡泡浴、星空下的香槟美景、
又或者是在电脑前陪你度过一天紧张的工作。
FLORETTE和你一样在乎细节
想跟你分享我们关于鲜花设计的理念,精心构思,推敲所有细节,
所用花材都是我们从本地花商和世界各处搜罗而来。
我们尽力让每一束花都有变幻的组合,自然、不矫饰,像是野外的花丛一样简单灵动。
我们关心从你接收花束到插在花瓶中的每一个体验,我们给不同花束和新鲜切花分别设计了很贴心的包装。
拎着一袋子花,抱着一大袋花材,走在街上,走进电梯,像是刚结束一次寻常美丽的购物,希望这也是你在寻找的生活。
带着几束大自然回家吧!
-
FLORETTE is an online florist founded in Beijing by a couple of ambitiously optimistic architects and tree-hugging urban dwellers who loves flowers and are always in search for better living – one that is constantly infused with the scent of love and the beauty of nature.
We believe enjoying indoors cut flowers and foliage is a way of charting the rhythm of the seasons with every bloom and leaf. After moving to Beijing from the 100% pure New Zealand - where gardening is an integral part of the kiwi lifestyle, we found ourselves wonder aimlessly in the midst of a concrete jungle - nature just seem a little far from reach.
We're a bunch of dreamers.
In search for our dream to balance our busy metropolitan life with the delicate touch of flowers and greenery. We have searched high and low for a studio that has the capacity to incubate our vision and eventually found ourselves a little run-down brick cottage surrounded by wilderness, which we renovated, planted, and nurtured with our own hands. This garden cottage is where we operate at our own pace, taking the necessary time to develop and perfect each of our offerings so to bring you delight, surprise and love.
Share your love with us, as we share ours with you.
Flowers to us are the bread and butter for a delightful life, as they are emblems of the natural world, messengers from the landscape to herald the seasons. At FLORETTE, we set out to share this belief that flowers are not merely for you and your love ones' occasional needs, nor should flowers be admired and appreciated only upon the moment of giving or receiving.
When you bring this glimpse of nature into your homes, that's when the real magic begins. We hope you will enjoy every stage of the ephemeral beauty of the blooms from the moment you unwrapped the bouquets as they accompany you through breakfasts, afternoon teas, candlelight dinners, bubble baths, champagnes under the starry sky, and perhaps be your only company on those long nights in front of your laptops - The essence of your vibrant life.
All in the details.
Not only do we care for blooms and foliages, we also devote ourselves in designing a delightful experience for our customers. May it be from your work to home, or from your work to your loved ones hands, our simple yet elegant packaging allow the lucky recipients of FLORETTE to proudly carry our flowers to its home with ease, confidence and joy.
FLORETTE would like to share this blissful feeling to like-minded lovers of the wild by carefully curating every single one of our bouquets, down to the little details, ensuring what arrives at your door - the freshest flowers of highest quality imported internationally and sourced locally.
Bring to your life a bit of FLORETTE today!