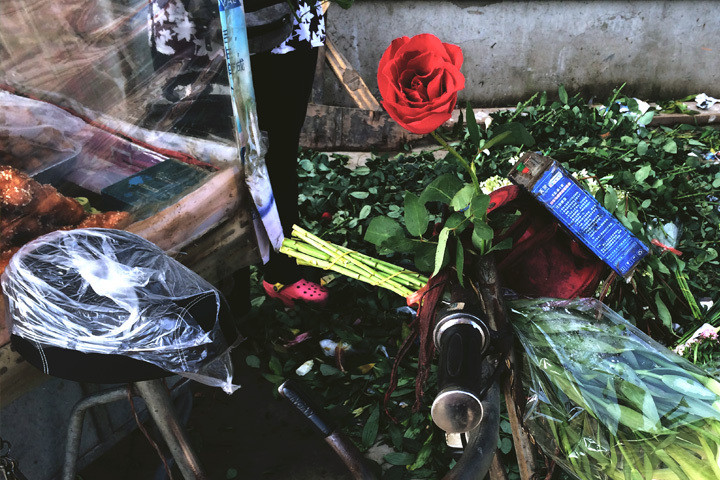 花市门口,一位女士推着小车在卖麻花。我们抱着大把的花材从她身边走过,忽然发现车头的中央,插着一支红玫瑰、挂着一扎白百合。
她从花商扔掉的花草中挑出还算"新鲜"的花朵,低着头认真整理,脸上一直是灿烂的笑容。
我们征求她意见问可不可以给她拍照,她也是笑着同意。一边跟我们说话,一边又整理出两支红玫瑰,认真的布置着小车。
即使经过挑选和整理,花的状况也不可能太好,要么垂头,要么脱水严重。可是插在这个小推车上,却美丽得发光。
回工作室的路上,我们感慨着,想象着这几朵玫瑰和百合被这位麻花女士带回家,插在花瓶里——即便没有花瓶,随意插在杯子里,放在柜子上。这么喜欢花的一个人,她的家一定充满爱和温暖,就算没有豪华的大房子,也不会停止热爱生活,热爱花香。
By the flower market entrance, there's a lady with a tricycle cart full of sweet fried dough twists. We walked past the cart this morning and caught a glimpse of a single red rose and a bunch of white lilies hanging on the handle bar.
The lady picked up a couple more 'fresh' red roses from the market's unwanted pile, peeling off the damaged petals and foliage with one of the most beautiful smiles we've ever seen.
We asked if we could take a few photos of her cart, she nodded with that same smile while adding the two roses into the arrangement.
Even after careful selection and grooming, the flowers from the unwanted pile are far from being 'perfect'; their heads mostly tilted, broken, and desperate for rehydration. On this cart, however, these flowers were shinier than diamonds.
On our way back to the workshop, we imagined these roses and lilies going to their new home with this sweet lady, being put in some simple vases or glasses, and placed on the cupboards. It is not hard to assume that someone who shows so much tenderness and compassion for flowers must have a home that is full of love and warmth, may it not be a grand mansion, for her love for flowers and love for life is much more worth cherishing.
There are always flowers for those who wants to see them – Henri Matisse