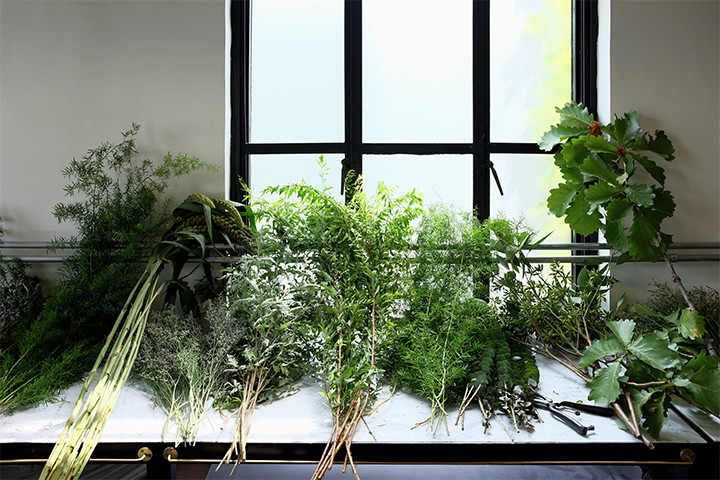 昨天是立秋,闷热的伏天也即将过去。一早已经感觉到天气的转变,特地准备一些花草做干花—有带着浓香的尤加利叶和果、尖锐的刺芹和曼陀罗、成串的高粱和麦穗、雅致的银叶菊和雪柳、还有长满小碎花的水晶草情人草。
我们先将这些新鲜花草的茎部做了简单的清洁,除去在枝节尾端约10公分的叶片并剪齐,再把不同种类的适量分批,用棉绳绑成一把,倒挂在了阴凉又通风的后厅。
你也可以自己在家做干花,需要注意的地方:
花材:含水分多的花材不适合做干花。比如桔梗、百合、姜荷花等还是以观赏鲜花为主,制成干花的效果不佳。适宜做干花的花材通常含水分较少,比如玫瑰,勿忘我,鸡冠花,高粱穗,松果等。
越新鲜的花苞和半开的花,做成干花后形态最好。将要凋谢的花做成干花后的花瓣更容易脱落。
假如干花落上灰尘,用吹风机轻轻吹净就好。千万不要沾上水,干花最怕的就是受潮。
Yesterday was the 'Start of Autumn' as stated in the lunar calendar, this usually predicts the end of the unbearable humid summer days. Feeling this change in the air this morning, we prepared some foliage for a flower-drying session as our way to welcome the arrival of autumn – the strong-scented eucalyptus fruits and leaves, the spiky eryngoes, corns of sorghum and ears of wheat, and baby's breath and sea-lavender topped with flower sprinkles.
These fresh foliage were carefully cleaned and the base of the stems trimmed (approx. 10cm) to get rid of any possible bacteria. Group and organise these foliage into bunches; tie the stems together with cotton strings or dried grass. Our back porch is a perfect spot for storing these bunches, being cool and well ventilated throughout the day, and we hung them up upside down, leaving just enough space between each bunch for the dry air to get past.
To make your own dry flowers:
Choose flowers that have less water content, such as roses, sea-lavender, cockscomb etc; flowers such as lily, bluebells, holds a lot more water in their petals, and should be better appreciated in fresh arrangements.
It is best to use fresh flowers and foliage for drying, and preferably select half-bloomed flowers for best drying result, as fully bloomed flowers lose their petals easily during and after drying.
Use a hairdryer to lightly blow away any dust on your dried flowers and foliage, and avoid getting any water onto them.